You see a problem in the world, so you set out to find a solution.
From the moment you find your solution to when you eventually go to market, it's all plain-sailing and you don't need anyone's help. Right?
Wrong.
Any entrepreneur knows that having the right mentors, advice and supports in place is vital to securing funding and finding success. Any female entrepreneur particularly knows this to be true.
The Cartier Women's Initiative Awards are different. They encourage female founders to solve global problems, and provide the supports and financial backing to allow their businesses to create strong social impact.
In real terms, the winners receive:
US$100,000 in prize money
A place on the INSEAD Social Entrepreneurship 6-Day Executive Programme (ISEP)
One-to-one business mentoring
Media exposure
Networking opportunities
Nearly 2800 applications were received for consideration in the 2018 awards, from over 130 countries. Twenty-one finalists are then selected by an independent jury, who also select six laureates in the final.
Following the successful 2018 awards in Singapore earlier this year, UpThink is calling on Irish founders to apply.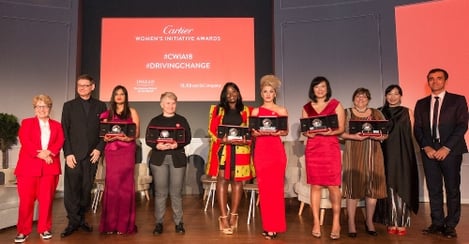 From left to right: Sandi Toksvig, MC; Cyrille Vigneron, CEO of Cartier; Swati Pandey; Siroun Shamigian; Melissa Bime; Kristina Tsvetanova; YiDing Yu; Paula Gomez; Phillia Wibowo, Associate at McKinsey & Company; Ilian Mihov, Dean of INSEAD.
2019 marks the tenth year of UpThink working with the awards, with founder Mary Cronin leading the entrepreneurial workshops since 2009.
UpThink builds personal relationships with all twenty-one finalists. We listen, advise and reassure entrepreneurs from seven regions; Latin America, North America, Europe, Sub-Saharan Africa, Middle East & North Africa, Far East Asia and Southeast Asia.
At the 2018 Awards final, hosted by British broadcaster and gender-equality activist Sandi Toksvig, the six laureates were announced by Cartier CEO Cyrille Vigneron.
For more information on the inspiring founders, past winners and how to register, please visit the awards website.
The call for applications for the 2019 edition of the Cartier Women's Initiative Awards will close on August 31, 2018 at 2:00PM (CEST).
This article was written by Laura Cronin, UpThink contributor.

Mary is an innovation specialist, systems thinker and circular economy facilitator. As the founder of UpThink Innovation Agency, Mary works with SMEs and large organisations as a circular economy/climate change/ESG consultant.