Avocado toast, renting vs buying and a daily flat white: everyone loves to talk about Millennials and what they're spending their money on. But, Millennials are growing up and becoming old news. Who is the future customer?
Generation Z encompasses anyone born between the mid 1990s and early 2000s. Unlike the Millennials that came before them, they are digital natives who are even more willing to challenge and create the world around them.
So, how can companies adapt their thinking to understand their future customers?
Transparency is key
One thing we know for sure is that Gen Z is full of paradoxes.
They love to share their lives on social media, but privacy is a huge concern. 2017 saw the rise of 'Finstas', or fake Instagram accounts, while 2018 has so far seen the rise of activism among their public-facing social media.
Ask any Gen Z-er about the Cambridge Analytica scandal, and they won't be shocked. They know their data is constantly being mined and sold- but they are taking back control with moves like refusing to use the "Sign-up with Facebook" on apps…in fact, refusing to use Facebook at all.
Companies have to be transparent on why and how they collect and share user data. Aside from GDPR regulations, the future customer doesn't want to be under constant scrutiny and feel like they're being lied to by brands.
They've grown up with Big Brother on television, they're not interested.
Keep it personal
Even though they're aware of infringement of their privacy and the apps that listen to them, Gen Z still wants to have personal conversations with brands.
The rise of the chatbot and use of Artificial Intelligence to market to your future customer will be crucial for the brands to engage with this new audience.
Using insignificant touchpoints to talk to them, rather than at them, gives Gen Z-ers that warm, fuzzy feeling.
A focus group for Irish FinTech startup Plynk revealed that when users (aged between 18-24) were completing sign-up and asked by the Plynkbot for their date of birth, the Plynkbot told them which day of the week they were born- personalised information that they valued and shared with their friends.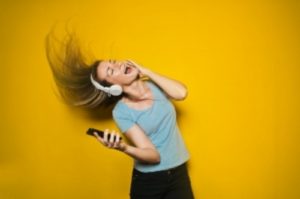 Mobile first, always
It won't come as a surprise to learn that mobile leads the way for Generation Z. 75% cite their smartphone as their device of choice.
A comprehensive mobile-first strategy should be at the forefront of any brand's look to the future.
When confronted with a choice, Gen Z will always go for the option that allows them to have a seamless customer journey using a mobile application.
Restaurant chain Wagamama recently announced their new payment app, allowing diners to pay for their meal without ever needing to wait for the bill. Gen Z, believing a cashless society is the way forward, will expect this technology to be commonplace.
Recession-proofing = Gigging
The gig economy will become even more prevalent with Gen Z. They've grown up mid-recession and have seen the effects.
Their answer to avoiding another recession? Entrepreneurship.
Employers can no longer expect Gen Z-er's to stay at the same job if they are no longer learning and expanding their skillset. The easiest way to do that is to take on short-term contracts and freelance work.
By changing the way they work, they will also change the way they consume. Companies need to keep an eye on these trends, and how they can now service their future customer's needs.
Do you have questions about your future customer? UpThink can help identify your customers. Contact us on hello@upthink.works to start a conversation.
This article was written by Laura Cronin, UpThink contributor.

Mary is an innovation specialist, systems thinker and circular economy facilitator. As the founder of UpThink Innovation Agency, Mary works with SMEs and large organisations as a circular economy/climate change/ESG consultant.