UpThink is delighted to be working again with UCD Engineering and the Energy Institute on our fourth Launchpad.
This week we kicked off our Sustainability LaunchPad with the final year and Masters of Engineering participants. We are delighted to be partnering with ESB, Electric Ireland, Enernoc, O'Cualann Housing, Grow Dome and Social Entrepreneurs Ireland– to create commercially viable, scalable business models with a positive social and environmental impact, working on live problems to be solved.
The participants are budding entrepreneurs that hail from a variety of engineering specialties from electronic to biomedical. The group has a great cultural diversity which is fantastic for creating dynamic teams and bringing a variety of perspectives and experiences. From our opening ideation day, it was clear that the talent and energy was something to be reckoned with and harnessed by our industry partners. We intend to use the participants strong academic and research backgrounds to help solve real-world problems. From bio-sensors in geodesic greenhouses, to the opportunities of blockchain in the energy sector.
Five teams were formed around live challenges, namely:
1. Grow Dome – Sustainable food with a social impact
2. Enernoc – Blockchain uses in the energy sector
3. O'Cualann Housing – Creating community-centric passive homes
4. ESB and Electric Ireland – The future of Electric Cars
5. Beesness – Preserving the future of bees in the ecosystem
Over the next 12 weeks, each of these teams will co-create with their industry partner as we bring them through a series of interactive workshops and frameworks. They will refine their value propositions, explore potential customers and markets and design business models.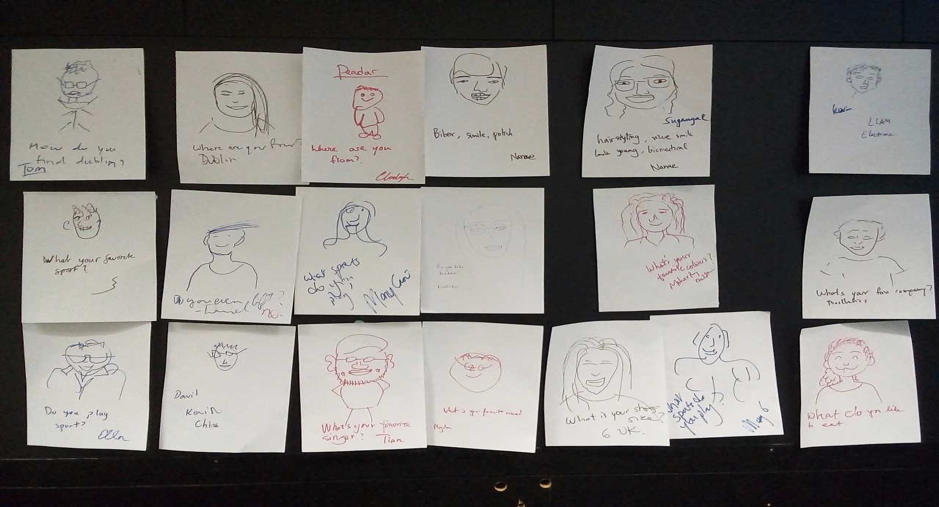 Ideation day- Sketching
The challenge set by this entrepreneurial module is to 'resist the obvious' and avoid 'solutionising' before the problem and opportunity is truly understood. Coupled with learning the frameworks to test our assumptions and understand the value of asking searching questions. These are key learning outcomes.
For us at UpThink, it's a great opportunity to learn also – bringing together industry domain experts, participants, mentors and academia to co-create, solving big problems. We're really excited about what's ahead.
The 12 weeks will culminate with the 5 teams pitching on November 29th 2017.
However, there's a lot of work to do before that. Next up for our teams is creating 'Value Propositions'. This will entail understanding the problem to be solved and who are we solving that problem for? Are they big enough problem to solve?
We'll keep you posted on our Launchpad journey. We're looking forward to creating sustainable change!
If you are interested in partaking in our next sustainability Launchpad or are a domain expert in any of the fields discussed above feel free to get in touch, we'd love to hear from you.

Mary is an innovation specialist, systems thinker and circular economy facilitator. As the founder of UpThink Innovation Agency, Mary works with SMEs and large organisations as a circular economy/climate change/ESG consultant.