WITH SUSTAINABILITY COMES CIRCULARITY
Our 'take, make and dispose' economic model is breaking our planet – bad for us and bad for business. Climate change is now a part of life. Permanent migration and food shortages are upon us…unless we embrace the opportunities the circular economy offers us.
The EU Commission's Food 2030 programme recognises that climate, nutrition, innovation and circularity are indivisible when focusing on food and nutrition security beyond 2030. The research and innovation initiatives draw on all sectors of the economy to solve challenges, and exploit opportunities in the new circular economy, using resources in a sustainable way.
We have 10 harvests to make it happen
World Food Day 2017 was the occasion for industry leaders, start-ups, EU institutions and universities to converge on Brussels to collaborate on such topics as;
Doing more with less: Robotics and big data for precision agriculture
Collaborating across boundaries: Fostering innovation for food security and nutrition
Empowerment of communities: How can we mobilise 512m consumers to make the sustainable decisions around energy and food?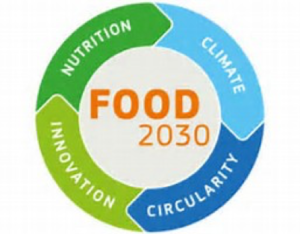 The conference heard how a solar PV startup in southern Spain, leveraging drone and satellite technology can offer 'more crop per drop' with their irrigation solutions. These modern irrigation systems can save 50% more water than traditional irrigation and doubles land productivity. This offers enormous market potential (14m Ha. / €26bn in S. Europe alone).
The forum heard that how digital technologies were not fully absorbed into the food ecosystem yet – but increasingly being deployed to cut or re-shape the supply chain. The digitisation of food clearly offers opportunities for sustainable investment for shareholders of large corporates – and a route for Open innovation between established corporates and start-ups to scale and 'punch above their weight'. 'Farming as a Platform' is upon us, leveraging data and IoT functionality to help land users optimise production values and bio-diversity, increasing yields across national and international boundaries.
Of particular significance for Food2030, was the focus on food waste – a €143bn 'market' in the EU alone – equating to 304 metric tonnes of C02 emissions. The sharing economy is transforming to the 'pro-social' market – with associated revenue opportunity!
How can circularity apply to your organisation?
Sustainability and circularity are not simply idealistic or ideological notions. They are not only part of some CSR initiative for large organisations. They offer tangible and exploitable revenue opportunities for your organisation. By re-framing our thinking, we can articulate and set realistic target and impact of an organisation in the areas of:
Waste Prevention
Resource Minimization
Resource and Product Re-use
Product and waste Recycling
Energy Recovery
So how could you adopt a circular solution into your business model?
Once you have identified your impact and related targets, your organisation can then look to re-evaluate your value proposition.
The Business Model Canvas (BMC – see example below) will help you with your visual representation of your business model. It provides a framework in which to evaluate current business processes and identify areas for innovation.
The challenge with circular solutions using the BMC is that traditional business model development focuses only on economic value- It doesn't consider the impact that products or services have on sustainability.
THIS IS WHERE THE IMPACT AND TARGETS JOIN IN: TO HELP SELECT THE RIGHT GAIN CREATORS AND PAIN RELIEVERS THAT WILL AID YOUR COMPANY IN CREATING THESE SUSTAINABLE, CIRCULAR SOLUTIONS.
Through using the circular value propositions canvas, the value proposition and selected customer segments can be used to fill the Business Model Canvas, so that companies can make the most sustainable choices in key areas such as resources, partnerships and customer segments. What choices would your organisation make?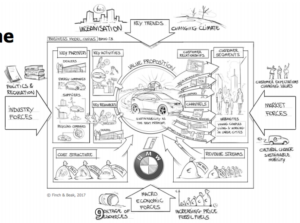 For more information on business model design for increased sustainability, contact us at hello@upthink.works

Mary is an innovation specialist, systems thinker and circular economy facilitator. As the founder of UpThink Innovation Agency, Mary works with SMEs and large organisations as a circular economy/climate change/ESG consultant.