UpThink in association with EY Entrepreneur Of The Year™ would like to invite you to a briefing session about the 2019 Cartier Women's Initiative Awards.
The session will take place on Monday 30th July from 8:00 – 10:00 at EY, EY Building, Harcourt Centre, Harcourt Street, Dublin 2.
For attendance of the session on Monday 30th July from 8:00am – 10:00am please RSVP to eoy@ie.ey.com
The Cartier Women's Initiative Awards aim to encourage inspirational female entrepreneurs worldwide to solve global challenges by:
supporting and recognizing women who are making concrete contributions to finding effective and affordable solutions for future generations.
bringing these business solutions to the largest audience possible.
HIGHLIGHTS OF THE COMPETITION
The awards are open to women-run, for-profit businesses in any country and sector working to create strong social impact. Twenty-one finalists are selected, representing the top three projects from seven regions namely Latin America, North America, Europe, Sub-Saharan Africa, Middle East & North Africa, Far East Asia and Southeast Asia.
The seven Laureates selected per region will receive:
US$100,000 in prize money
A place on the INSEAD Social Entrepreneurship 6-Day Executive Programme (ISEP)
One-to-one business mentoring
Media exposure
Networking opportunities
Second prize for the 14 finalists: US$ 30,000 in prize money.
Yvonne Brady of EVB Sport previous finalist in 2014 will share her experiences and her learnings from her participation in Cartier Women's Initiative Awards.
The call for applications for the 2019 edition of the Cartier Women's Initiative Awards will close on August 31, 2018 at 2:00PM (CEST).
For more information and registration on the Cartier program, please visit: https://www.cartierwomensinitiative.com/application-selection-process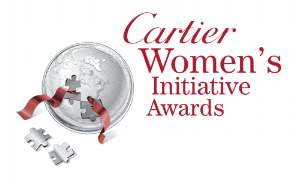 Mary is an innovation specialist, systems thinker and circular economy facilitator. As the founder of UpThink Innovation Agency, Mary works with SMEs and large organisations as a circular economy/climate change/ESG consultant.